The Gaskell Journal – Volume 35 (2021)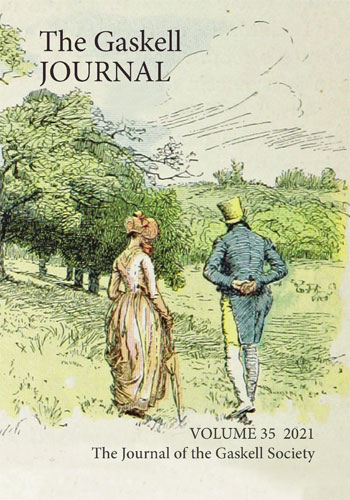 Ingrid Hanson
'That for which all good men yearn': William Gaskell, Elizabeth Gaskell and the Idea of Peace
Blanca Puchol Vázquez
Gaskell and Spanish Culture: Quixotic Traces in Cranford and The Moorland Cottage 
Robert C.G. Gamble
Elizabeth Gaskell and Janetta Bishop Mitchell: 'Our Miss Mitchell'
Katherine Schneider
'These Warring Members': Supernatural Projection and Destabilising Gender Binarism in 'The Poor Clare'

REVIEWS
Kate Nesbit
Martin Hewitt, Making Social Knowledge in the Victorian City: The Visiting Mode in Manchester, 1832-1914. New York: Routledge, 2020
Alice Crossley
Meghan Lowe, Masculinity in the Work of Elizabeth Gaskell. Cham: Palgrave Macmillan, 2020.
Anthony Burton
Robert C.G. Gamble, Mrs Gaskell's Personal Pantheon: Illuminating Mrs Gaskell's Inner Circle. Brighton: Edward Everett Root Publishers, 2020.
Anne Stiles
Thomas Recchio, The Novels of Frances Hodgson Burnett in 'the World of Actual Literature'. London: Anthem Press, 2020.